Driveway Pavers 
Concrete and asphalt are two of the most common materials for driveway paving. However, they look a bit boring. If you want to give your exterior space a fresh and unique look, then you should go with natural stones to pave your driveway.
If you are looking for the most durable option for driveway paving, then cobblestones, bluestone, granite, sandstone, travertine and crazy paving will be suitable. These natural stones are available in different types and sizes. It's important to note that you will 100% need to be laying these pavers on a concrete slab and these tiles must be at least 20 mm thick. However, 30mm is recommended as the thicker the tile the better it holds the grip. 
Note: 10mm thick pavers are not an ideal option in the long run for driveway pavers as they possibly can crack overtime depends on the weight of the vehicle and other factors.  
How to Install Driveway Pavers?
Though stone pavers are slightly expensive than the concrete driveway but they are totally worth it because they are durable and last for ages with proper maintenance. However, you could reduce the total cost of the paving project by following DIY driveway paving steps. Note that pavers are easy to install. You do not need special skills or training to pave the driveway. However, the task can turn out to be a little time-consuming. DIY paving is also physically demanding. Here is how you can install the natural pavers on your driveway:
Step1 – Create a Base 
You need to excavate the surface to create a strong foundation where the pavers are to be laid. Depending on the area you are planning to pave, by machine one day and by hand it can take up to a few days to dig up to 7-10 inches. After the digging you would need to have a foundation of 100 mm thick concrete and approx. 50mm rock with F27 mesh (poured and screed). Note, it is important to let the concrete cure for 7-10 days before laying your pavers.
"Installation Image of  Travertine Tiles and Pavers"
Step2 – Install the Pavers
You are supposed to place the pavers directly on the concrete. Depending on tiles being used, whether it be 20mm or 30mm thick tiles, you will need ot have 40mm lower on any finish surface. It is recommended laying these pavers on sand and cement mix on top of your concrete base.
You could contact the professional contractors or collect ideas from video tutorials to find the best and most attractive paving pattern for your driveway. You could keep it simple with the uniform paving or install crazy pavers. Either way, pavers must be placed carefully. If the installation goes right, these pavers will stay glued to the driveway for years.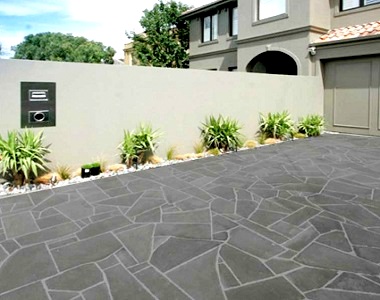 "Installation Image of  Crazy Paving "
Step3 – Fill in the Gaps
 
Your job is not done until you fill the gap between these natural stones. The question is what material can be used for filling the gaps. Usually, people use grout (Sanded, Mapei, Davco) to fill these gaps. It is recommended to leave a 3mm or 5mm joint in between tiles or use the remaining mortar as well.
"Installation Image of Cobblestones"
Step4 – Seal the Area
Finally, pavers require sealing, you will need about 3 to 4 coats at the start. This will provide less maintenance when it comes to cleaning. It is recommended to seal the natural pavers on the driveway once or twice a year.
Sealing helps protect the natural stones from the weather, water, temperature, and stains. It is especially important if you install the pavers on the driveway, patio, and other such exterior spaces.
Conclusion:
There are many stones that can be used for driveway pavers, but cobblestone, bluestone and travertine pavers is chosen mostly because of its variation and different characteristics.
Get FREE Quotes + FREE SAMPLES by Stone Pavers Australia
Stone Pavers are the LARGEST Natural stone providers across Australia. We are known for providing quality products at low prices.
If you are looking for buying stone tiles or stone pavers in Melbourne, Sydney, Brisbane, Canberra, Adelaide, or anywhere across Australia.
Give us a call today on 03 9706 9767 and receive a FREE QUOTE or you can request an express posted FREE SAMPLE before purchasing our products.
Simply fill our contact us form for the orders or free sample enquiries.
Get some installation ideas from our beautiful stone tiles  Image Gallery.